K20 Cemented carbide strips with high strength
Brand Name : JINXIN
Place of Origin : CHINA
MOQ : 7-14DAYS
Packaging Details : 1000000pcs/month
Tungsten Carbide strip is used for cutting general wood cutters, hard wood cutters, plastic and tobacco, as well as to making drawing dies, wear parts and module core for punching parts and automatic press and etc.
K20 Cemented carbide strips with high strength
Tungsten carbide strip description
1, the purity of more than 99.95% of raw materials, impurities, less physical properties of the plate more stable;
2, the use of spray drying technology, the material in the fully sealed conditions using high purity nitrogen protection, effectively reduce the mixing process in the preparation of the possibility of oxygen, better purity, the material is not easy to dirty;
3, the density of tungsten carbide strip uniform: 300Mpa isostatic pressing machine to suppress, effectively prevent the production of defects, the plate density is more uniform;
Tungsten carbide strip characteristics
1, the tungsten carbide strip with fine compactness, strength and hardness indicators are in line with the standard: the use of low-pressure sintering technology, so that the pores within the plate to be effectively eliminated, the quality is more stable.
2, the use of cryogenic treatment technology, so that the internal microstructure of the strip to be improved, the internal stress can be greatly reduced, effectively avoid the plate in the cutting process of the possibility of cracks generated;
Tungsten carbide strip application
1, suitable for the production of cast iron roll and high nickel chrome roll dressing knife;
2, for the production of discharge plate, stamping die, punch, electronic progressive die and other stamping die, etc.
Tungsten carbide strip dimensions and grade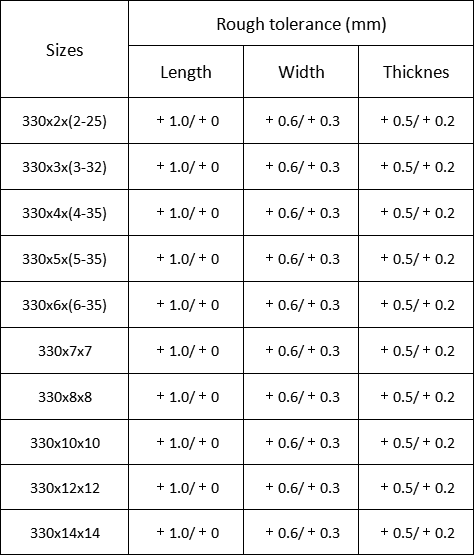 Please feel free to give your inquiry in the form below. We will reply you in 24 hours.