Tungsten weight cylinders for counterweight derby weight for hot sale
Brand : JINXIN
Product origin : CHINA
Delivery time : 7-15DAYS
Supply capacity : 10 ton/month
Tungsten counterweight cylinder: The density of tungsten heavy alloy is very high. Its density is twice of steel.It is massively applied to balancing weight mould,counterweight and high temperature moulds. Tungsten heavy alloy has low thermal coefficient but it has high absorption ability and high-energy rays.It aslo can be made into protective shield and high-energy rays as the parts of military defense.
Tungsten cylinder weight has so many advantages, such as high density, high melting point, small volume, excellent hardness, superior wearing resistance, high ultimate tensile strength, high ductility, high temperature resistance, etc. Tungsten alloys are widely used in many industrial sectors.

Feature
1.High resistance to radiation;
2.High ultimate tensile strength;
3.High temperature resistance;
4. Deep processing property significantly increased;
5. Weldability and oxidation resistance greatly enhanced;
6.Yield increase and cost reduction.
Size

Application
Tungsten cylinders weight can be easily used for car weighting .The product also is manufactured as the parts of military defense, extrusion die, various counterweights, such as yacht counterweights, vehicle counterweights, airplane counterweights, helicopter counterweights, boat counterweights, tank counterweights, etc.Usually, tungsten alloy cylinder could be manufactured as the parts for military applications, extrusion die and various kinds of counterweights.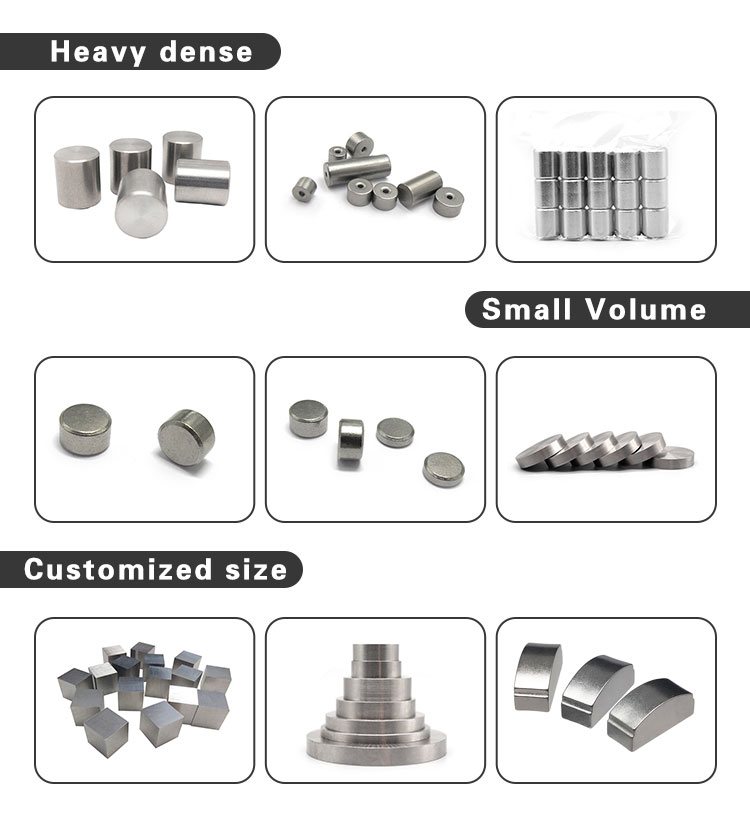 Note:Welcome OEM&ODM.The size and purity can be customized as requiremets.
Any interested items please feel free to contact:
---
Contact:vincent
Mob: +8613357331966
wechat:13357331966
WhatsApp: +8613357331966
Email: jinxin012@ojinxin.com
Please feel free to give your inquiry in the form below. We will reply you in 24 hours.